Quality control at DAKMAN is the central axis around which our entire operation revolves, defining each stage in the processing of our export products. Stringent quality inspection occurs at four points of the purchasing and production process.
With a flexible production line, DAKMAN is able to meet specific industry requirements on the following:
Removal of black & broken beans
Removal of foreign matter
Moisture content
Screen/bean size
ISO 10470:2004 Defect count
Polished grades
Where necessary, the finished goods are then sampled by independent quality surveyors before final release for shipment is approved.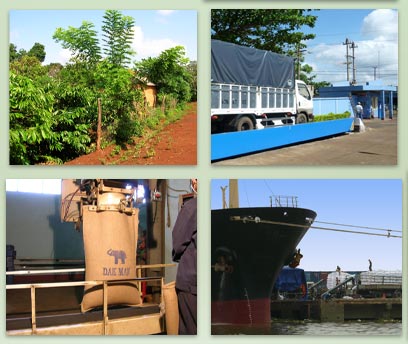 Standard Grade

Hanoi

Black & Broken max. 5.0%
Moisture max. 12.5% (ISO 6673)
Foreign matter max. 0.5%
Screen size 90% > S13

"Sets the standard. An evenly graded, full bodied robusta coffee adding punch to any blend"

Danang

Black & Broken max. 3.0%
Moisture max. 12.5% (ISO 6673)
Foreign matter max. 0.2
Screen size 90% > S15

"A flavourful robusta coffee with light to medium robusta characteristics and pleasant aroma"

Saigon

Black & Broken max. 1.5%
Moisture max. 12.5% (ISO 6673)
Foreign matter max. 0.2%
Screen size 90% > S17

"A bold bean light to medium bodied robusta coffee with very soft, neutral cup characteristics"

Specifications

Polished Grade

DAKMAN runs a state of the art polishing line to satisfy the high standards demanded by our quality conscious customers. Our polishing machines have a capacity of 15 tonnes per day and produce a bright coffee that makes a smoother cup with enhanced body. Polished and graded coffees are colour sorted and can be hand picked to ensure the removal of the smaller defects.

Removal of Black and Broken

Our two processing lines are installed with colour sorters in order to ensure that our customers are provided with consistent and uniform clean Robusta coffee. Our graders and gravity tables afford us the capability to offer polished coffees with minimal broken beans.

Screen Size

Our coffee is graded according to screen size, using sieves to determine the overall dimensions of the bean. We process grade 1 Robusta ranging from
screen 15 through to screen 18.

Sustainability

Sustainability

DAKMAN is also proud to offer a variety of certified coffees. If you would like to read more about our efforts to ensure the our coffee is sustainably produced, download these PDF fact sheets:

…or see our sustainability page for more information.

Arabica

Arabica

At an altitude 1000-1600 meters above sea level Lam Dong is renowned for Arabica coffee production. Stunning views and carved hillsides reveal over 23,000 hectares devoted to Arabica plantations.

The province capital, Dalat City carries memoires of Indochina, preserving the colonial charm and serenity of an Asiatic-French fusion.

Sample our selected Café Indica, a high-grown delicate Arabica Mild, presented by our joint venture wet mill in Cau Dat.

The well-balanced flavour is complemented by a light body with uniform acidity.

A range of Vietnam Washed Arabica is available from DAKMAN

Washed Robusta

Washed Robusta

Our EaKiet Fairtrade Cooperative group have joined forces with DAKMAN to construct and run a unique wet processing mill. Situated in the basaltic soils of Cu M'gar the mill is processing high quality, clean regular and certified robusta. The washing process enhances the flavour of the beans and gives a smoother, cleaner cup.

The area is named after the volcano and comes from the local ethnic language of the people of E-de. 'Cu' means mountain and 'M'gar' means flower, the region can, therefore, be known as the Flower Mountains.
Any enquiries?